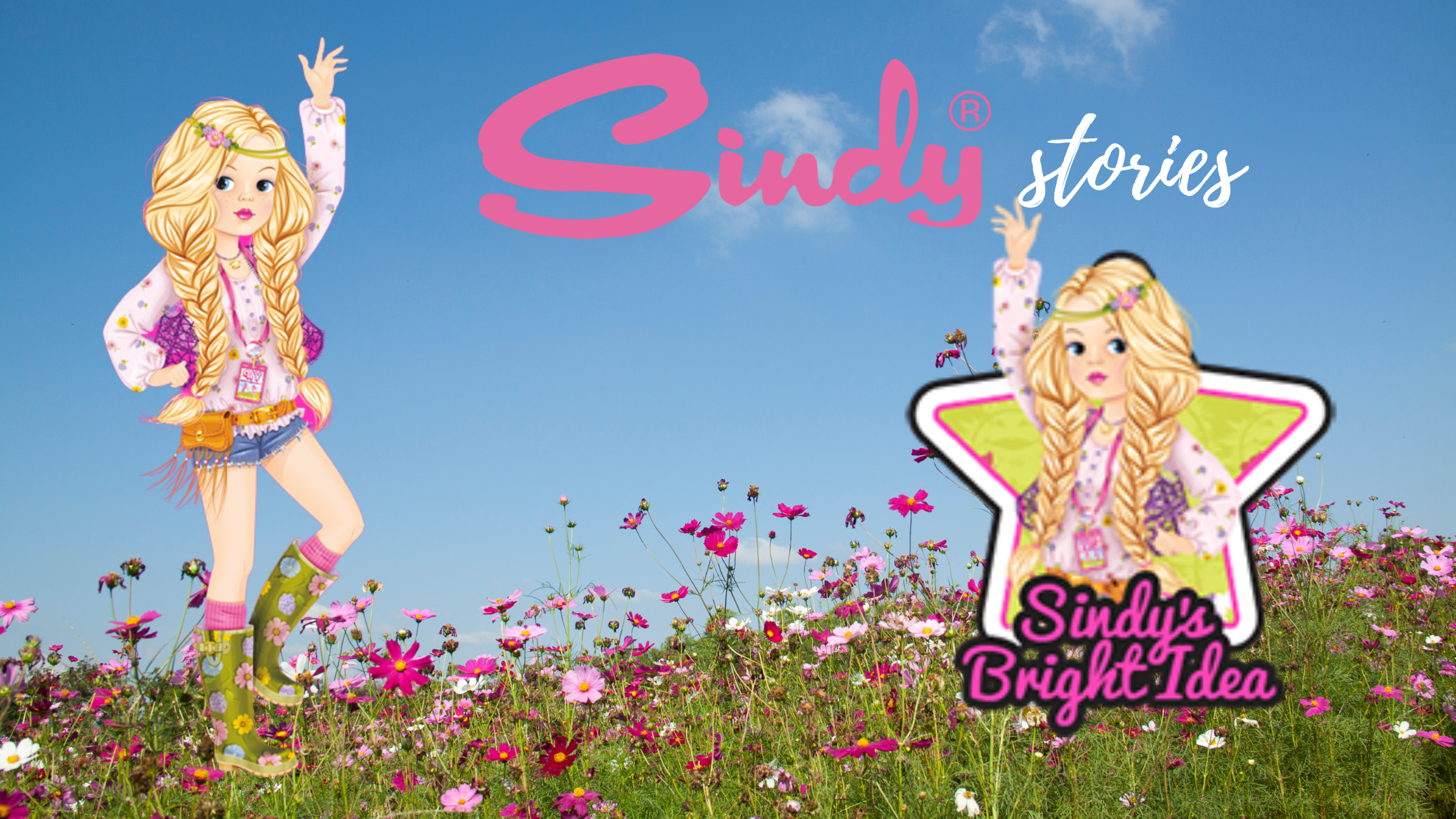 Short Stories: Sindy's Bright Idea!
Sindy ticked off another day on her calendar. She was so excited. Now there was just one day to go before the Strawberry Farm music festival. Sindy was going with her best friends, Holly, Jasmine and Issy. It was going to be awesome, a great weekend of music, dancing and giggles with three of Sindy's best friends ever.
Sindy had packed her tent, sleeping bag and a few cool clothes. Now she just had to fill a bag with snacks for sharing. They always got hungry at festivals. It must be all that dancing!
In the kitchen, Sindy's mum was making a cake. She was going to throw a party for Sindy's sister, who was too young to go to the festival. "Ooh, glow sticks!" said Sindy, looking through the little treats that her mum had bought for the party."Oh, Mum, what a gorgeous cake," said Sindy, as she crammed packs of crisps and chocolate bars into a backpack. The cake was decorated with blue icing and colourful butterflies.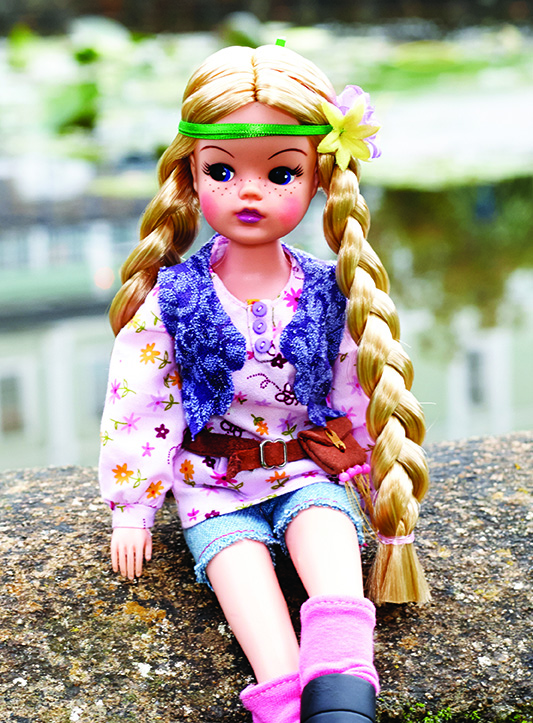 The following day Sindy and her friends arrived at the festival. "Ooh, it looks just like fairyland!"squealed Issy. The site was decorated with colourful bunting, fairy lights and giant model strawberries.
"I can't wait to explore," said Sindy, "but first we should put up our tent." While they knocked in the tent pegs, the girls chatted about all the bands that were playing. "We can't miss Nellie Golden," said Issy.
"Bessie B will be amazing too," added Jasmine.
But the main attraction for the friends was the headline act—Ned Sheeram.
"His songs give me goosebumps," said Sindy, "and he's kind of cute!"
She finally hammered in the last tent peg. "Phew!" she said. "All that hard work has made me hungry. Who's ready for a snack?"
But when she went to get the choccy bars and crisps, Sindy found that the backpack was filled with bags of glow sticks. "Oops! I packed my sister's party treats instead of snacks!"
The best mates decided they may as well look around the festival instead. There were loads of things to do, from face painting to fairground rides. The girls got some pretty flowers painted on their faces—all very retro.
"It looks so cool!" said Sindy.
Then they met an acrobat who showed them how to walk on stilts in the circus tent. After that they bought some huge chocolate milkshakes and perched on a nearby haystack to enjoy the delicious drinks. By this time they were getting pretty tired out and needed to save some energy for Ned Sheeram's set later.
To get them in the mood, Sindy started singing one of Ned's songs. Soon all her friends joined in. The musical mates all had lovely voices and harmonised with each other perfectly. After a minute, Sindy looked up to see that a group of people had gathered around to watch their performance. At the end of the song, she was surprised to hear clapping coming from behind the haystack.
The girls jumped down and peeped behind their straw seat. They could not believe who was applauding them. They immediately recognised the red-haired lad carrying the guitar. It was Ned Sheeram!
"I loved your singing," the cheery pop star said, while signing autographs for them. "Hope to see you all at the show later!" he added, with a wink.
"We wouldn't miss it for the world!" said Sindy.
Later, the gang got ready for Ned's show. Sindy put some plaits in her hair and pulled on her favourite patterned top. Then she finished off her look with a flowery headdress and her favourite festival wellies.
"Come on, Sindy," said Issy, "We want to get a good spot at the front." The girls linked arms and made their way to the stage. They found the perfect position—right in the middle of the stage at the front. They would have a great view of Ned from there.
While they waited, they sang some more. When Ned finally came on stage, carrying his guitar, everyone went crazy. As he started to play the first song, Sindy and her mates joined in—belting out the tunes at the tops of their voices. And when the colourful lightshow began, there was no way they were not going to dance. "This is brilliant!" shouted Sindy.
But at that moment there was a horrible scraping noise. "Oh, dear, what's happened?" said Sindy. Ned was still singing, but the crowd could not hear him. His microphone was broken. This was a disaster! Ned stopped playing while a man jumped on stage and tried to fix the problem.
After a few minutes Ned tried again, but the microphone still did not work. A wave of disappointment passed over the crowd. Would Ned be forced to abandon the show? He looked around worriedly. Then he spotted Sindy, Issy, Holly and Jasmine. He pointed to them, and beckoned them up on to the stage.
"You know all of my songs, right?" said Ned.
"Every one," replied Sindy.
"If we all sing together, the crowd will at least hear and perhaps join in too," explained Ned.
"And the show can go on!" added Sindy. "We'll do it!"
Sindy looked out at the sea of faces and felt her knees wobble. This was scary. But once she started to sing, and the crowd began dancing again, Sindy and her friends felt right at home on stage. And the colourful lights show made a brilliant backdrop to the music.
But just as Ned's new group was gaining confidence, disaster struck again. The lightshow broke down too. This was all too much for Ned, but this time Sindy had an idea. Quick as a flash, she jumped off the stage and grabbed the bag of glow sticks. She and her mates quickly decorated themselves with neon bracelets, necklaces and hairbands. Then, as well as singing, the friends danced around the stage, creating a living light show. The crowd loved it—and joined in, switching on the torch apps on their phones and waving them in the air.
After the show, Ned treated Sindy and her mates to pizza
"Thanks so much for helping me out," he said.
"It was our pleasure!" said Sindy, who was still buzzing with excitement.
They sat on a bench and ate the pizzas—margaritas with extra cheese—while fairy lights shone all around them.
"Yum!" said Sindy. "I was so hungry, and I can't believe we actually
performed with Ned Sheeram—and had pizza with him too!"
"Well, you were supposed to bring the snacks. Just as well you didn't," teased Holly.
"Yes, it couldn't have been better," whispered Issy. "It feels like a dream."
"Well I'm wide awake," said Sindy, "and this has certainly been the best festival ever!"
THE END
By Alison Viña