Britain's top teenage doll was launched in September 1963 by Pedigree Soft Toys Ltd. a division of the famous Lines Bros Ltd. who had been in the toy business for over 100 years. Pedigree Soft Toys Ltd. (now Pedigree Dolls & Toys Ltd.) based in Exeter, Devon had at this time been producing dolls for over 20 years and sought to expand its product range to include a trendy fashion doll.
And, Sindy was born.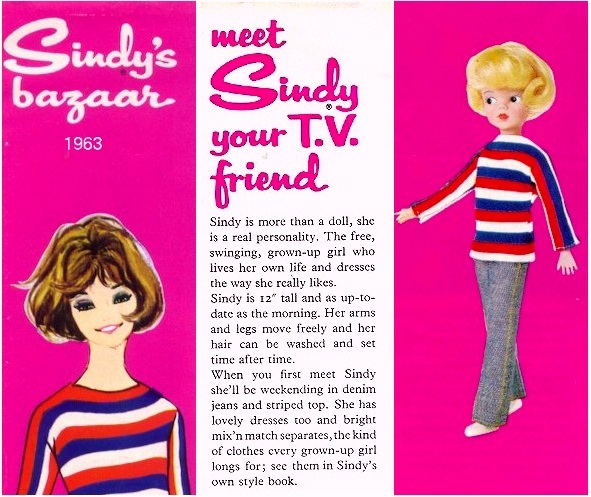 Pedigree officially introduced Sindy, a 10 3/4" Fashion Doll on Sunday 6th of September 1963 at 6pm with a 30 second TV commercial in the London area. She was the first UK toy ever to be advertised on television. The name "Sindy" was chosen after a street poll where young girls were shown a photo of the doll and asked to choose their favourite name from a list of four. The most popular choice was "Cindy", and the spelling was changed to "Sindy".
London retailers were sent a promotional 45rpm gramophone record to introduce the doll, which included Pedigree's marketing text below:
Sindy is the free, swinging girl that every little girl longs to be. Sindy has sports clothes, glamour clothes, everyday clothes — a dog, skates, a gramophone — everything… Every genuine Sindy outfit is a child's dream come true. Each one is designed for today's fashionable young women by today's leading women designers. They are authentic miniature replicas of the latest adult clothes.
Sindy was very much part of the Swinging Sixties revolution. Noted as the decade that for the first time aimed its fashion, music and culture at teenagers as opposed to grown-ups and Sindy 'The Doll you Love to Dress' echoed this new found freedom. Her first outfits were particularly important as every fashion detail had to be included. 
Inspired by fashion at the time Sindy's first fashions were designed by Foale & Tuffin, who were then as recognised as Mary Quant, and her clothes reflected the teenage fashions of the day.  Sindy's extensive wardrobe, producing eight complete themed outfits and eight separates were miniaturised by Valerie Saunders, Pedigree's head in-house designer.
This groundbreaking first TV advert with its catchy jingle was shown a further 25 times up to Christmas day 1963, and was when her first eight outfits and eight separates were also screened. She was an instant success. By the end of the year their factory had produced over 40,000 dolls and all the accompanying outfits, some say as many as 200,000 products in just three months.